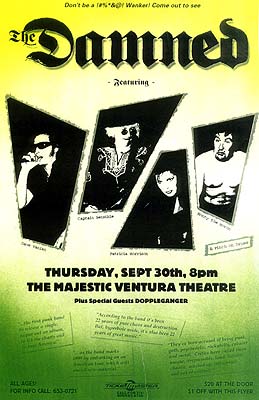 The Damned,
9/30/99, The Ventura Theatre

The Damned are a band with tremendous staying power. At a time when most of their contemporaries have fallen sadly into obscurity (The Damned proper formed at the beginning of 1976), here they are still putting on terrific shows. The few hundred 15-50 year olds in attendance could not keep up with the vibrance of original members vocalist Dave Vanian and guitarist Capt. Sensible (no Rat Scabies, not like last year's tour). An interesting new addition was bassist Patricia Morrison, formerly of (as if I need to tell you) Sisters Of Mercy.

They played literally every old song people were dying to hear: "Love Song," a really well, neat version of "Neat, Neat, Neat," and by the time they had built up to "Smash It Up," people were ready to go totally crazy. Some of the younger people who had come only to hear punk looked a little confused when they played their pretty songs such as "Wait For The Blackout" and yes, "Shadow Of Love." They also did new material that was very interesting and atmospheric. That's when my companion Giancarlo went to stand with his jaw agape in front of Capt. Sensible... one of the unsung heroes of guitar. Also I have to say how fabulous Dave Vanian looks.