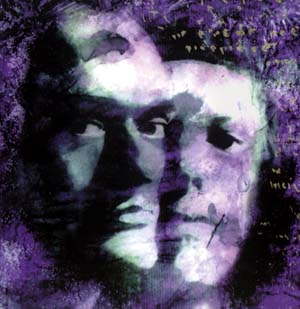 Das Ich
10/31/99, The Yucatan, Santa Barbara

We were just about the luckiest 70 (or so) people in Santa Barbara or anywhere else on Halloween, when Germany's industrial avant-garde ensemble played a very last minute concert at The Yucatan. Das Ich hadn't played the U.S. in about five years, so I was floored to hear that they were playing in Santa Barbara. Before the show, I had a chance to talk to Bruno, who plays keyboards and composes most, if not all, of the music. Turns out they had cancelled a lower-paying gig in London to do this performance... I felt bad because he didn't understand where "all the people" were, and I assured him it was no reflection on the band, just Santa Barbara. The fact that The Creatures were playing with Switchblade Symphony that night in L.A. didn't help, either.

Margot Day opened the evening, whom people watched from afar. Margot's voice is exceptionally agile, and her range is unbelievable-- I know this first hand by attending their band practice and hearing her through an unremarkable and abused p.a. I would love to hear Margot tackle Mozart's Magic Flute or something equally challenging. Margot's music is difficult to describe... it doesn't grab you on your first listen. I notice that often people don't know what to make of it because it's not comforting or safe (nor is it trying to be). Picture the variety of opinions people would have after hearing Diamanda Galas (brilliant? ridiculous? courageous? over-the-top?) and you get the idea.

Just as they had five years ago, Das Ich put on an awesome show. I have no doubt that they won over and blew away every single person in that club. Due to the small audience, many other bands would have shortened their set or put on a mediocre performance, but not Das Ich. They acted like there were five thousand of us. All four members frequently sang together which had a very powerful effect. Even more so though, the focal point of Das Ich live is the frontman Stefan. His dancing hinted toward a West African style and he had painted his serpentine frame black from head to toe. Stefan would speak, sing and scream with his eyes fixed on someone in the crowd, a staring contest the other person would quickly lose.

Even though their songs are completely in German, there was plenty of good-hearted between-song chatter in English, thanking US so much, and saying how great WE were. I swear, how awesome is that, in a era where it's so common for artists to act too cool, too tortured or too shy to even acknowledge that they are performing for people?! I hope they don't wait another five years to come back. Until they do, go buy one of their albums which you can easily get from Tower records online. The new one, re_laborat,is a spiffy double cd (with gorgeous packaging) that features remixes of previously released songs.