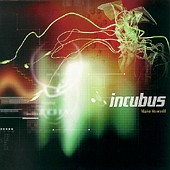 Incubus, Ultraspank
3/28/00, Fillmore Theatre, San Francisco

I saw Incubus for the first time back in January during Sno-Core at The Ventura Theatre, a bill that also featured System of a Down and Mr. Bungle. To me, they completely stole the show with their versatility, warmth and sincerity, besides the fact that they totally rocked. I liked them enough to immediately order their latest CD Make Yourself.The Fillmore performance seemed even better, perhaps because they were headlining, or maybe just because I knew the material. I absolutely love their vocalist. His more melodic material reminds me of David Sylvian, which is basically saying that he sounds like an angel. Plus he plays didjeridoo and djembe! Incubus is fairly new to me but I guess they've been around a long time. They are somewhat similar to The Deftones in that they combine melody, heart-felt lyrics, and interesting arrangements into a super-gnarly rock sound.

The same can be said of Ultraspank, but they take the boundaries even further to the gnarly-rock side of the spectrum, and then embellish it with some electronics. This is complimented by very sparse, Middle Eastern sounding pieces and portions of songs that showcase vocalist Pete Murray. Spank played a lot of new material which I'm sorry I'm not more familiar with (yet!), but I know a few songs that people are going to freak over are the slick, groovy and massive-sounding "Click" and "Crumble." I also liked "Feed" "Stuck" and "Push." The audience all really got into Ultraspank, despite many of them probably just being there for Incubus. These bands blended really well together.

Incubus is now touring in support of 311, then will join Ozzfest 2000... Ultraspank is out with Coal Chamber, then are joining up with the summer festival Tattoo the Earth. Check back for a huge in-depth review and interview of the world's greatest soon before their album is released...