Ultraland: The Grueling Journey to Progress for
S.B. Band Ultraspank
By Dru
Images By Myriam Santos_Kayda
After another six weeks out on the road that culminated with a sold-out show supporting Static-X at the Palace Theatre in Hollywood, the guys in Ultraspank are beaming. May 30th marked the release of Progress, the second album from the Santa Barbara quintet comprised of vocalist Pete Murray, guitarists Neil Godfrey and Jerry Oliviera, bassist Dan Ogden and drummer James "Fed" Carroll. With a nod to heavy artists such as Tool and The Deftones as well as electronic artists like Vast and Underworld. Ultraspank (nee Spank) have crafted a record of both aggression and intense beauty-- all the strength of their terrific '98 self-titled Epic Records debut is back, but Ultraspank show that they have matured immeasurably with even more dynamic and diverse arrangements and tremendous warmth and passion.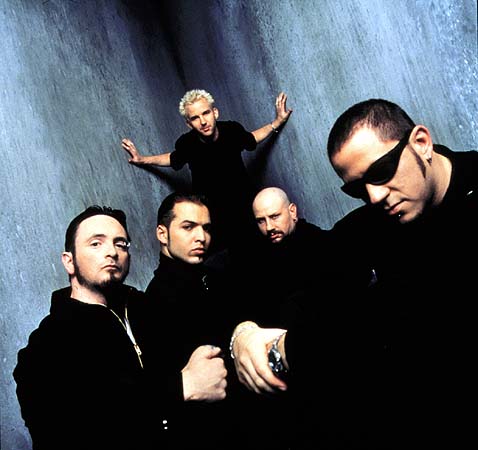 Ultraspank trace their roots from another heavy Santa Barbara outfit Indica that featured Pete, Dan, and original Spank drummer Tyler Clark. In the early 90's Indica earned themselves a spot on MTV's Spring Break after winning a national Battle of the Bands contest, but the appearance ended up being the band's "fifteen minutes," recalls Pete. "After treading water for a long time, Indica came to its logical end." "We just weren't happy," adds Dan. "We wanted something heavy going on, but groove-oriented... that's why I went to Neil," who at the time was playing with D.O.G. (Deadly Orgasmic Groove).

Neil remembers noticing that although "Pete was a killer singer and the guys were insane musicians, the music was so constrictive it didn't give him a chance to really shine." Several months went by as the band explored a new sound.

After a couple appearances as Spank, Jerry came aboard from another band of Neil's called Good Mourning.

Next, Spank caught the attention of Andy Gould Management (a.k.a. Concrete) when they slipped a tape to a friend they had there at the time, ex-Santa Barbara music scene luminary J.J. Atkinson. With a roster filled by the likes of Rob Zombie and Pantera, Spank never looked further than AGM for management, who Pete recalls "made things happen fast and in a big way." One night after a show at Hollywood Mogul's, Spank signed with Epic. "We were the last band from Santa Barbara in that group of six or seven that got signed to a major in 1996," says Dan, recounting Snot, Summercamp, Stegosaurus, and others.

Despite interest from other labels, Epic seemed like the way to go. "Epic broke Korn and Rage Against the Machine," points out Dan. "They really helped start the ball rolling again for heavy artists." But shortly after Spank's signing and name change to Ultraspank, Epic's president was fired and "things fell out of alignment," as Pete puts it, "very fast for Ultraspank. A new president came in and her concern was for her own bands first."

Ultraspank kept themselves alive by constantly touring. "We put 104,000 miles on a van and went around the country five or six times," says Pete. Their first trips out were in support of bands such as Life of Agony, Stuck Mojo and Incubus. The Stuck Mojo tour included a trip to Europe that gave Ultraspank the chance to leave the van at home, but instead they were sharing a double-decker bus with 17 people and no air conditioning. "That's all you need to say about that," laughs Pete. While on the road, Ultraspank amassed a rabid following-- their message boards filled up with rave reviews for their performances and a dozen unofficial fan sites sprung up.



When Ultraspank got back from Europe they landed a spot on the second stage of Ozzfest '98, but it was back to a van. "That tour was really rough," remembers Neil. "We'd play a show, pack up our gear, then drive ourselves sometimes 700 miles. We'd all be taking shifts driving into the morning then sometimes play a show at noon. It was unbelievable."

Ultraspank's first tours occurred before their debut record even came out. Partially completed here in Santa Barbara by Orange Whip's Frank Corsetti, Ultraspank features the production talents of David Bottrill, who produced Tool's Aenima as well as Peter Gabriel's albums Us and Passion. "He did a good job," says Pete, "David had a very difficult task." Dan explains why: "We were really green. Our attitudes weren't what they needed to be, our songs weren't where they needed to be... I just can't imagine that we were that fun to work with." Good time or no, Ultraspank made an impressive and ambitious debut release. CMJ New Music Report said, "Ultraspank give us good reason to give the overplayed genre of groove-oriented rock another chance, smashing and crashing with waves of wonderfully heavy, down-tuned riffs, growling vocals, moshable beats and hauntingly beautiful wails."

While Epic did give the record a push in heavy college radio, the band agrees that at this point word of mouth almost entirely supported them. This led to some ambivalent feelings for the members of Ultraspank. They worked odd jobs between tours, and nervously wondered if their label would ever support them. Original drummer Tyler Clark (now in Nogahyde) left the band. But things took a turn for the better in 1999 when Ultraspank were featured as the soundtrack to the home video game 3Xtreme. What's more, since the game's designer Joe Brisbois had become a major Ultraspank fan, a full-length music video for the song "5" was included. Says Dan, "That game sold a hell of a lot more copies than we could ever have hoped our first record would," a number Pete guesses at over 400,000.



Epic could no longer neglect the band's presence. "They figured there's no cure for the Ultraspank disease, so we have to do something with them," laughs Dan. Back in the studio Ultraspank were graced with the production triumvirate of producer Peter Collins (Jewel), engineer Toby Wright (Korn) and mixer Andy Wallace (Limp Bizkit). The band experimented with cello (courtesy Angus Cooke), acoustic guitar and a wide array of guitar effects, multiple harmonies, and very minimalist pieces. They also expanded their use of sequencing, but Neil points out that "the only material that is really programmed are ethereal noises and mood stuff that you can't capture on a guitar or with vocals." "Fed can't stop playing, wipe his face, and you'd still hear drums, " Pete laughs.

The members of Ultraspank had a lot on their minds during the recording of Progress. "Straight up this record is about struggling, striving, and surviving," admits Neil. "I don't know how many times during the recording process either Pete would walk out of the room or I would, or someone would have to leave. I still have a hard time listening to it sometimes. It brings me to that moment. I'll be sitting there, and I'll get choked up-- I have to shut if off or walk away." "I printed my lyrics this time," adds Pete, "and it's going to be pretty obvious what they're about... we basically climbed Mt. Everest to get this record out." Progress perfectly captures these feelings. The album is so emotionally evolved and involved, that the listener can't help but feel the solitude, self-doubt, and strife it conveys. There is no mistaking the longing for acceptance, release, identity, and renewal in their compositions.


After the catharsis of the recording, things are definitely looking up for Ultraspank. Dates on the road with Coal Chamber have been added to their schedule as well as "Tattoo the Earth," the summer festival that is rivaling Ozzfest 2000. They have a new tour bus, no more vans. "Things are better each day than they were yesterday," says Neil. "People ask why we didn't bail our label... thank God we didn't. Right now they are putting a lot into us and everyone has a positive attitude. Why dwell on what could have been when what's happening now is way better?"