Mission U.K.
June 9, Majestic Ventura Theatre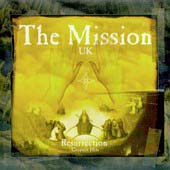 Ten years ago The Mission U.K. came to this same venue, and for some reason I couldn't go. But I specifically remember their coming, probably because our friends' band-- a group called A Band Called Horse-- got to open. It was almost a miracle I went to this show, because I hate going places alone... but man, am I glad I did.

Like many people, I become familiar with The Mission through my exposure to Sisters of Mercy. But to me, The Mission long ago developed a warmth and realness that their cousins lack (not like Andrew would care that I said so). They seem to genuinely have fun with their audience and this night in particular they put on a great show. I've said before how much I admire bands that give it 110% even if there's only a few hundred people in the audience, and The Mission proved no exception. Craig looked ravishing with his head cleanly-shaved!

I'm glad I stayed til the very end, eventhough it meant my missing a Nogahyde show-- our friend Loanne got up and sang backup vocals on Severina and performed brilliantly! We were screaming with excitement, (which probably detracted from her performance, now that I think of it, but we couldn't help it)-- it was a total surprise (later I found out that Monica did the same thing with The Mish at the M'era Luna Festival in Europe). As she was about to leave the stage, Wayne had her stay for another song, I think 1969.

They played all their hits of course, Deliverance and Tower of Strength being standouts. Their newest disc, a Best of/Remix type thing on Cleopatra is surprisingly good.