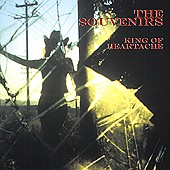 The Souvenirs
Jan 14, Hi Bar, Santa Barbara

All I had heard about The Souvenirs before I went to this show was that they had an amazing pedal steel player. Oh, and I also liked how they looked in their flyer-- they had that dark, polished and handsome aura that the guys in Reservoir Dogs had. So I successfully lassoed up some friends who were eager to see something different and headed out.
If you hadn't guessed, The Souvenirs are an old-school country/rockabilly/anything-goes band, with very modern appeal. They did a wide range of "standards" to keep people cheering, everything from "Hello Walls" to "These Boots Were Made For Walking" and "Brandy." The singer sounded great and reminded me of David Hidalgo of Los Lobos. The sound at the club seemed exceptionally good to me that night, and then I figured out it was because I wasn't seeing your average rock band where everyone has to turn it up to eleven. I didn't even need to dig through my backpack searching for earplugs.
It pleased me that there were so many people there for a weekday, probably because of Spivak, the gregarious Hi Bar/Yucatan bartender. He'd been telling everyone he knew they had to come, including me. He spent the evening either giving the metal sign to the pedal steel player or trying to get girls to dance with him. I danced with him (badly) for the second half of the set and wished I knew any set of dance steps besides The Hustle. I also couldn't believe how tired I got. Then the band announced they'd be back for another set! I don't know how they did it... I was dying.
It was true about the pedal steel. It sounded gorgeous, really lending itself to the more melancholy material. At one point Spivak and I both felt its low hum resonate through our bodies, and it was all we could do to stand there mesmerized (after giving up on dancing). After the show, my pal Alyssa bought their latest album King of Heartacheand has really enjoyed it ever since. I really loved the title track and another song called "Shades of Blue." They're still on tour now...